NEW RESTAURANTS IN PARK CITY, UTAH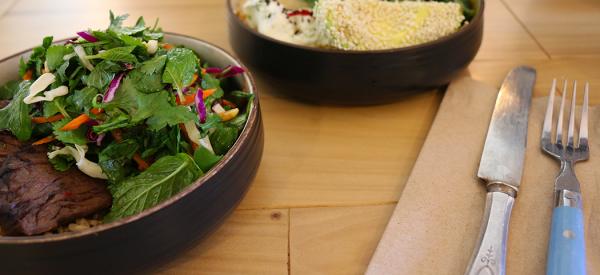 Park City's food scene continues to evolve and grow, adding a different spice to a town once known for being a mecca specifically for outdoor enthusiasts. With its variety of flavors, Park City's restaurants truly have something for everyone – regardless of taste. In addition to a long list of new eateries, some of the Park City favorites have redone their spaces and menus as well.

FIREWOOD ON MAIN Firewood brings unique and interesting flavors to Park City's Historic Main Street, as it is committed to serving a menu cooked entirely by firewood. The menu's bold flavors pair well with the restaurant's luxurious and rich, yet welcoming environment. Firewood opened in mid-December of 2016 and serves dinner from 5:30-9:30 PM Sunday-Thursday, and from 5:30-10:00 PM Friday and Saturday.

FIVE5EEDS After opening its doors in December of 2016, Five5eeds has kept with its motto of Great Food. Serious Coffee. The café utilizes seasonal and local ingredients to create delicious, Australian-inspired dishes, and an exceptional restaurant environment. A delicious option for breakfast, brunch, lunch, or a quick treat, Five5eeds is open seven days a week from 7:30 AM-3:00 PM.

FRESHIES LOBSTER CO. Fresh Maine lobster… in Utah? Freshies Lobster Co. promises its customers lobster that arrives from the Maine shore to the Utah store in 24 hours. Freshies was established in 2009 with a food truck that they set up at the Park Silly Sunday Market and area farmers markets, and in December 2016 opened a café on Prospector Drive. The café menu not only features their classic lobster rolls, but has soups, salads, and sandwiches, too! Open Monday-Saturday from 11:00 AM-8:00 PM and Sunday from 11:00 AM-3:00 PM, you can now satisfy your craving for an authentic Maine lobster roll seven days a week.

HARVEST CAFÉ A quaint café located near the bottom of Historic Main Street, Harvest's menu includes Australian-inspired breakfast, lunch, and tasty coffee. Harvest Café opened its doors in mid-November 2016 with fresh, simple decor, and fantastic natural light. The eatery prides itself on serving food and drinks that provide big tastes and flavors, while using seasonal ingredients and creativity. Open from 8:00 AM-3:00 PM, seven days a week, Harvest Café is a must-stop for breakfast, brunch, or lunch.

RIVERHORSE PROVISIONS Riverhorse on Main, one of Park City's fine dining favorites, recently opened its own provisions shop at the top of Historic Main Street. Since opening its doors at the end of December 2016, Riverhorse Provisions has impressed visitors and locals alike with its variety of artisan grocery products, dine-in, take out, and prepared meal options. "Accessible gourmet on Main," available for breakfast, lunch, après-ski (and any of your other needs!) seven days a week from 7:30 AM-7:00 PM.

VERSANTE HEARTH + BAR Located in the newly remodeled Park City Peaks Hotel, Versante Hearth + Bar opened its doors in the beginning of January 2017. A great, casual addition to Park City's culinary scene, Versante's menu offers a variety of American and Italian-style favorites, including flatbread pizza, pasta, craft beer, and specialty cocktails – all at a great price point, too! Versante is open daily from 3:00 PM-12:00 AM, making it great option for après-ski.

RESTAURANT UPDATES: THE SPUR BAR AND GRILL An old Park City favorite with a brand new look, the Spur Bar and Grill recently renovated and expanded their space. A popular spot for live music and dancing, the Spur's space (formerly accessible via an alleyway) now sits directly on Historic Main Street with an upstairs balcony and oversized windows that offer expansive views. Serving breakfast, lunch, dinner, drinks, and dancing, the Spur is a go-to option for visitors and locals alike. Open from 10:00 PM-1:00 AM daily.

EATING ESTABLISHMENT Eating Establishment, located at the top of Historic Main Street, revamped in the fall of 2016 and has a new look along with a new menu. Eating Establishment has been open since 1972, making it the oldest continuously open restaurant in Park City. Serving breakfast, lunch, and dinner, the new space features a cozy dining room, breakfast counter, and a brand new bar offering classic cocktails. Perhaps also notable – Eating Establishment is partially-owned by actor Ty Burrell, who plays dad of three on Modern Family. Open seven days a week from 8:00 AM-10:00 PM Friday-Sunday and 8:00 AM-3:00 PM, 5:00-10:00 PM Monday-Thursday.